Ca l'Isidre restaurant in Barcelona updates its decor but keeps what makes it great: high-class cooking.
Bite-sized review: Ca l'Isidre restaurant, El Raval, Barcelona
I wrote a full review of Ca l'Isidre restaurant in 2015. To read it, click here. Consider this post (based on a visit in early May) a minor update. It is a reminder that in a turbulent world, some things remain steadfast – and Ca l'Isidre restaurant is among them.
Nevertheless, even this most venerable of restaurants must move with the times and Ca l'Isidre's has recently redecorated its dining room. The original paintings that were once crammed onto every wall have been thinned out – though many wonderful pieces still remain. A darker, more modern colour scheme results in an intimate atmosphere that better suits special occasions – especially in the evening when lights are dimmed.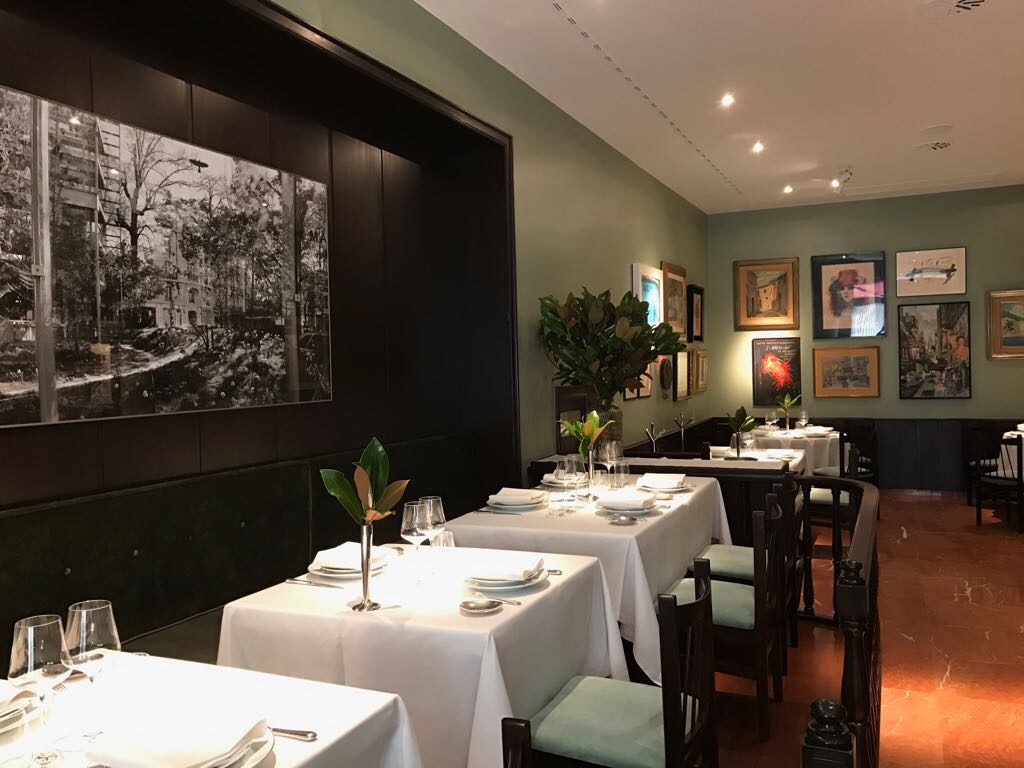 The rest, fortunately, is unchanged. Montserrat Salvó still greets guests. Isidre Gironés still goes to the Boqueria market every morning to buys what is freshest and best. Their daughter, Núria, still cooks. Pep Millán still runs the front-of-house team with great professionalism and charm.
And the food's still great. Ingredient-led classic dishes of very high quality, supported by a first-rate wine cellar. Expect to spend around €60-70 per person, or make the most of the €38.50 lunch menu. Whenever you go, ignore what's written down and follow Pep's advice.
Fresh peas and Iberian ham. (Wine: 2014 Barco del Corneta, an unusually oaky verdejo.)
Artichoke heart, stuffed with wild mushrooms, topped with foie, served with tarragon sauce.
Fried xanguets (chanquetes in Castillian – transparent goby fish in English), with a fried egg beneath, waiting to be smashed and soaked up. (Wine: Quinta da Serradhinha 2014 organic white.)
 St. Peter's suquet (fish stew), with clams and potato. (Wine: 2015 Augustus Cab Sav rosé, from the nearby Penedés.)
Traditional braised veal cheeks, dark and deep, with olive-oil-infused mashed potato. (Wine: 2013 Furvus D.O. Montsant, by Vinyes Domènech.)
Then desserts. A chocolate coulant, perfectly cooked, and a very un-Catalan Thai rice pudding with coconut. (Wine: 2013 Alvear Pedro Ximénez de Añada.)
Ca l'Isidre: Carrer Les Flors 12, 08001, Raval, Barcelona | Tel. (+34) 93 441 11 39 | www.calisidre.com | Metro Paral.lel | Closed Sundays
Find Ca l'Isidre on the FoodBarcelona restaurant map.